Non IS Lasers
PAL Laser designed to produce 2 PARALLEL beams seperated by a predefined distance. Two seperation distances are currently available PAL 18 has two beams at a seperation of 18mm. PAL 22 has two beams at a seperation of 22mm.
These units have been designed with the valued inout of the Measurement team at a major Australian Aluminium Refinery. We listen to the issues with the older units they had and produced a superior model with the following advantage
Sealed Single Unit significantly reducing ingress
Two Laser Diodes producing parallel beams,
As opposed to a single beam only accurate at predefined distance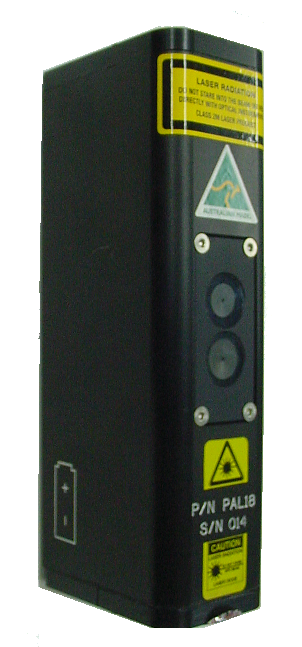 This product emits two parallel beams, produced by two seperate laser diodes, separated by the distance required to set the anode depth. This product assists the Pot Line operators to accurately install the Anode so that the potline remains as effecient as possible. A Dot was requested for the top beam, with a Horizontal Line from the Lower Beam.
This is a Single Unit.
Powered by 6 x AA Sized Batteries
Single IP Rated push button activates the beam for 10 seconds
Industry standard in Anode Alignment. Multiple Units now in Service accross Australia.
Parallel Beams ensure that the Laser is more useable.
No need to ensure the Laser is at a nominated distance from the Anode.
These units are Manufactured in Australia by MCE Lasers. MCE Lasers based in Melbourne are a Long Established Laser Manufacturer with a team of Engineers and Technicians who are able promptly design and manufacture laser equipment to suit your requirements. Stotts with our extensive Industrial Experince are able to understand your needs in the Field and work closely with MCE to deliver a product to your requirements.